CFB Predictions: Power Ranking WVU's 2010 Schedule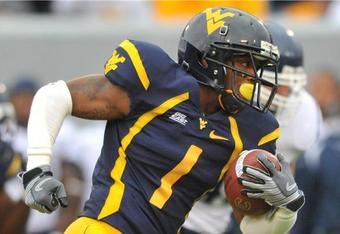 With West Virginia football making news for all of the wrong reasons lately, it's time to put the focus back on the field and look at the upcoming season.
The Mountaineers have a few cupcakes, some nice rivals and a handful of games that will truly define the season.
So let's look at the 2010 opponents and offer a power ranking of that schedule.
No. 12: vs. Coastal Carolina (Sept. 4)
WVU is supposed to win this game and Coastal Carolina is coming to Morgantown for a payday. But we've all seen how these small schools love to sneak up on the big boys. The Chanticleers went 5-6 last year, so that big upset at WVU doesn't look so promising.
QB Zach MacDowall started his career at Wake Forest and played in every game last year.
It's Coastal Carolina, that's enough analysis of this game.
Series record: 0-0
No. 11: vs. UNLV (Oct. 9)
The Rebels are in transition as first-year coach Bobby Hauck takes over after a successful run at Montana. UNLV features dual-threat QB Omar Clayton, but despite his talents injuries have always been a problem.
UNLV could struggle on offense as Hauck tries to convert the Rebels from a spread to a more run-oriented attack. WVU's offense should also take advantage of UNLV's weak defense.
This game is two weeks after WVU travels to Baton Rouge to face SEC-power LSU, so the Mountaineers shouldn't overlook the Rebels.
Series record: 0-0
No. 10: vs. Maryland (Sept. 18)
The Terrapins used to be one of the Mountaineers traditional non-conference rivals until Maryland ran from the challenge. Now the Terps are back and the timing isn't good for them since they are down and Ralph Friedgen is fighting for his coaching life.
Maryland does have some talent, including QB Jamarr Robinson, who is becoming an offensive leader. The running game is also solid with Da'Rei Scott, who was first-team All-ACC last year after rushing for 1,133 yards.
WVU is currently enjoying a four-game winning streak against the Terps and it should be five straight after 2010.
Series record: WVU 23-21-2
No. 9: vs. Syracuse (Oct. 23)
It's the second year of Doug Marrone and the Orange are ready to make a move in the conference. But the Cuse have to travel to Morgantown and this is always a big game for Mountaineers.
Depth is an issue, but if the defense improves and Syracuse gains some confidence with victories in its early games the matchup could be more than anyone is expecting right now.
One year after he was named the starting QB, Ryan Nassib finally takes over. The offensive line is a little green, but a lot of pressure should be lifted because RB Delone Carter has been reinstated. Carter rushed for more than 1,000 yards and 11 touchdowns last year.
Series record: Syracuse 30-27
No. 8: at Marshall (Sept. 10)
This is supposed to be a rivalry (Friends of Coal Bowl), but it's been pretty one-sided. However, Mountaineer fans realize the Thundering Herd could make this more competitive with long-time WVU assistant coach Doc Holliday taking over in Huntington.
As good as Holliday is at recruiting and coaching, the Herd don't have the talent to take down WVU just yet. It doesn't help that Marshall plays Ohio State the week before and then gets the Mountaineers at Joan C. Edwards Stadium on a Friday night.
The unknown factor is if former Clemson QB Wally Korn will get the starting nod over returning starter Brian Anderson. The Herd are skilled enough to finish with six or seven wins in 2010 ... just one of them won't come at the expense of the Mountaineers.
Series record: WVU 9-0
No. 7: at Louisville (Nov. 20)
With Charlie Strong taking over at Louisville, one thing is clear: the Cardinals will be back on top in the Big East soon. However, it won't happen in 2010.
Louisville returns nine on offense, but the unit was one of the worst in the nation last year. RB Victor Anderson is back after an injury and the offensive line is completely intact, which is always good news.
The Cardinals, despite their struggles under Steve Kragthorpe, always play WVU tough.
Series record: WVU 9-2
No. 6: vs. Rutgers (Dec. 4)
Greg Schiano's 55-55 record in nine years at Rutgers doesn't do the job he has done justice. The Scarlet Knights were an embarrassment before he arrived. Now Rutgers has appeared in six consecutive bowl games.
QB Tom Savage is the real deal. Teams were able to rattle and confuse him a little last year because he was a freshman. He's a year older and he's going to be confident and dealing. Don't overlook WR Mohamed Sanu, who also runs the Wildcat. He may be the Big East's most athletic player.
The offensive line will be the key to success, though. If they don't perform the offense could be in trouble. Rutgers doesn't have many holes on defense, as the Knights are expected to be fast and aggressive.
Series record: WVU 31-4-2
No. 5: vs. South Florida (Oct. 14)
Whenever these two play it seems the Bulls play their best and WVU plays its worst. But give South Florida some credit for the Mountaineers' struggles in this young, but feisty rivalry.
QB B.J. Daniels had a career game against West Virginia last year in a 30-19 dominating performance in Tampa. But making the trip north to Morgantown is a little different.
The Bulls need to shore up its defense a lot to be a serious threat in 2010, but history tells me this game will be closer than it should.
Series record: South Florida 3-2
No. 4: at Connecticut (Oct. 29)
If the Huskies weren't winless against WVU they'd probably get the nod over Cincinnati this year. This is the most talented UConn team since joining the Big East. With eight starters back on both sides of the ball from a team that didn't lose by more than four points last season, the Huskies are flirting with the upper echelon of the conference.
The inconsistent Zach Frazer is back at QB, but don't be surprised if Cody Endres wins the job at some point this season.  The offense will actually be led by an offensive line that returns five of six starters, including all-league guard Zach Hurd.
The defense is equally experienced, but the unit needs to play up to its ability. If it does, everyone should watch out for UConn.
Series record: WVU 6-0
No. 3: vs. Cincinnati (Nov. 13)
The Bearcats have won the past two meetings by three points, including a controversial victory at Nippert Stadium last year when Cincinnati was awarded a touchdown by the replay booth on a clear-cut fumble (that was called that way on the field).
Cincinnati is still the reigning Big East champ and the Bearcats are not about to give up the crown easily. QB Zach Collaros proved last year, while filling in for the injured Tony Pike, that he can lead the offense. Cincy also returns WRs D.J. Woods and Armon Binns to go with USC transfer Vidal Hazelton.
Cincinnati must improve on defense, though, to be a serious contender again. The Bearcats allowed an unimpressive 471 yards a game and 39.4 points over their final five games.
Series record: WVU 14-3-1
No. 2: at LSU (Sept. 25)
The Tigers have underachieved the past two years, so it's a little tough to handicap this game right now. But tradition and the strength of the SEC dictate this won't be an easy contest.
The offense is led by QB Jordan Jefferson and RB Stevan Ridley, but you should remember the name Michael Ford. After redshirting in 2009, Ford shined in the spring game and expectations are sky high.
On defense, CB Patrick Peterson is one of the nation's best and he'll shut down whichever Mountaineer receiver he gets. The WVU game is also important for LSU coach Les Miles, who is sort of on a hot seat entering this season.
Series record: 0-0
No. 1: Pittsburgh (Nov. 26)
This is by far the best collection of talent at Pitt since Dave Wannstedt took over at his alma mater in 2005. The Panthers are a dark horse pick to play in the BCS Championship. The only reason they probably won't is that tough schedule that includes an opener at Utah, a home game with Miami, Fla., and a road game at Notre Dame.
RB Dion Lewis and WR Jonathan Baldwin are arguably the top two players in the conference, while DEs Greg Romeus and Jabaal Sheard are both NFL talents. This is the year the Pitt's lauded recruiting classes finally pay off.
The big question mark is QB Tino Sunseri , but this day-after-Thanksgiving game should decide the Big East title. Now that will make for a great Backyard Brawl.
Series record: Pitt 61-38-3
EAVB_INKUGDBQWK