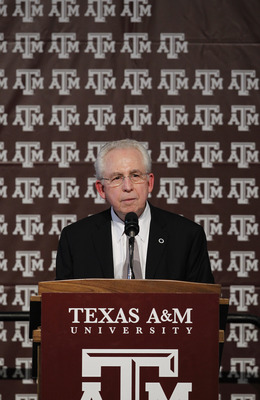 SEC commissioner Mike Slive is a shrewd businessman, but he's not alone.
College football is loaded with individuals who wield a lot of power and they aren't afraid to use it when they need to.
Do you think Nick Saban doesn't cash a few chips when he needs to?
It's not limited to coaches and executives either.
There are some players who also have the gravitas to make an impact, even if it's just for one season.
So who are the 25 most influential people in college football right now? Let's see.
25. Oliver Luck
The father of Andrew Luck would probably have been happy to sit back and let his son get all of the headlines.
But Oliver Luck also had a job to do as West Virginia's Director of Athletics, and he navigated the Mountaineers through the conference realignment nightmare this fall.
Now he's promising everyone in the state that WVU won't be in the Big East as of July 1.
Luck is definitely making a name for himself and it has nothing to do with Andrew.
24. Paul Finebaum
Paul Finebaum, a radio personality in the South, may be one of the most hated media folks out there, but he's on top of his game talking about the SEC and college football.
He gets big-time guests, but most people tune in to see which of the regular callers will be on that day.
Finebaum can move the needle, and college football fans love to tune in for his show.
23. T. Boone Pickens
T. Boone Pickens is Phil Knight-lite (you'll read about Knight later), basically because he doesn't make Oklahoma State wear a different uniform every game.
Pickens has pumped a lot of money into the Oklahoma State athletic coffers and he expects results.
Mike Gundy has delivered back-to-back banner years for the Cowboys, but you have to think the perfectionist that Pickens is that he's still smarting over that loss to Iowa State.